Wilderness Cabins
Natural building in Snowdonia
Wilderness Cabins was born out of a desire to showcase natural building on an accessible scale. Too often we see the use of concrete, MDF & other non sustainable/environmentally favourable materials in small builds. So we decided to provide an alternative - affordable, durable & beautiful spaces that are created from locally sourced sustainable materials in Snowdonia.
We design & build unique natural buildings and offer a variety of options on all aspects of the finish. This includes external cladding, roofing, doors and windows and internal options on insulation, flooring & furniture.
Take a look below at our recent projects or click the Project Gallery button to see more.
A mix of traditional roundwood larch framing and a more uniform structure. Ty Coed lodge is a two double bedroom holiday lodge built using larch and oak from within 1 miles of its location.
We feel the mix of traditional style and more modern lines gives this build real character. A wonderful space that can be a private home or holiday rental. It falls within the dimensions of a mobile home which also means planning laws to do apply (subject to your location).
As well as the structure we also built all the oak interiors including window sills, skirting, doors, kitchen & beds.
You can find out more information and book to stay here by following this link here
The Hideaway is an absolute favourite. It's a playful take on the humble shed with a rustic, hillbilly/shack twist.
A classic box frame construction it also boasts a very useful veranda outdoor space which would be perfect for a rocking chair maybe? The main roof is a living roof which blends beautifully into the surroundings whilst the veranda roof is reclaimed corrugated iron for that deep south vibe.
The size is 4.5m squared including the veranda space but this can be flexible.
A very versatile space that could be used as a mini workshop, garden shed, summerhouse just a wildlife hide like this one.
The Shepherd Hut is our favourite small yet perfectly formed home. We lived in one of these for two years so we know its a very useful cosy space!
Average size is 6/8ft wide by 8/12 ft long but we can be flexible. The structure is a classic double "A-Frame" construction. The example shown here is finished with larch cladding and a plant fibre corrugated roof (known as Ondulene). It even has a fancy sliding door.
This is a highly flexible structure which can also be built on a trailer chasse so it can be towed. The cabin in this picture was for a toilet at Camlan Garden Centre in Dinas Mawddwy so pop along to check it out.
The Treehouse is a fairytale take on an old fashioned classic. Rustic, Fantasy, Hobbity call it what you want but gone are the days of a couple of old planks and some rusty nails.
Built using the reciprocal roof design this treehouse boasts a host of features including built in furniture, star gazing dome, windows, balcony, larch bark cladding, slide & even a hot tub. It's the perfect spot for the family and has a really natural feel.
All treehouses will vary depending on the location but we will always ensure that everything is safe and secure.
We often find it's harder to get the adults out of these treehouses, in fact we're never entirely sure whether there were any kids to begin with!
A simple but perfectly formed gazebo that brings a little rustic charm to a blank canvas.
Whether its to shelter from the sun or rain this gazebo is perfect for creating a wonderful natural social space.
Built using welsh larch from our woodlands it offers a beautiful contrast with straight lines in the roof and natural curves in the poles.
These gazebos would also be ideal for covering outdoor hot tubs for those more exclusive garden spaces!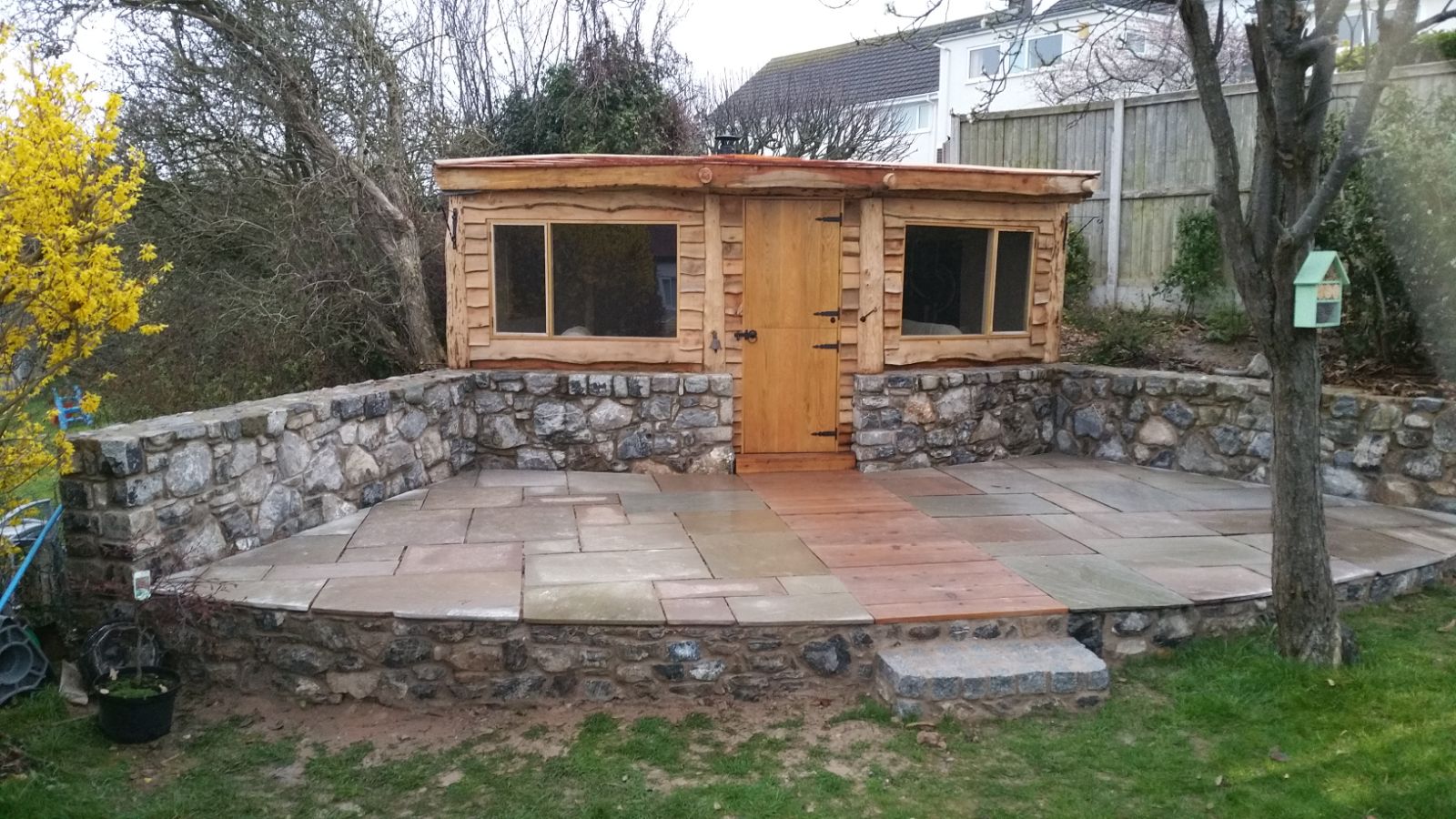 The was a very unique project working with some exiting stonework. A wasted space in the corner of a garden we were able to merge together beautiful natural timber and welsh stone.
The dimensions were 4 metres square. The posts and cladding were larch and the stable door & windows were handmade using oak. On top is a larch shingled roof and theres even a log burner inside to make it cosy.
The Summerhouse is exactly that...a beautiful open fronted summerhouse!
Built in the very traditional self supporting reciprocal roof style, this quirky space has built in seating (with storage within), hessian lined walls and ceiling that keeps the draft out, a birch brash "thatched" roof and clear plastic dome for star gazing in the evening.
Standard size is 4m squared but this can be flexible. Total height is 2.5m. This design can be easily adapted to a more insulated/closed structure for all year use.
It's the perfect spot for a glass of something exciting as the last of the sun falls onto the benches, clearly placement is everything!